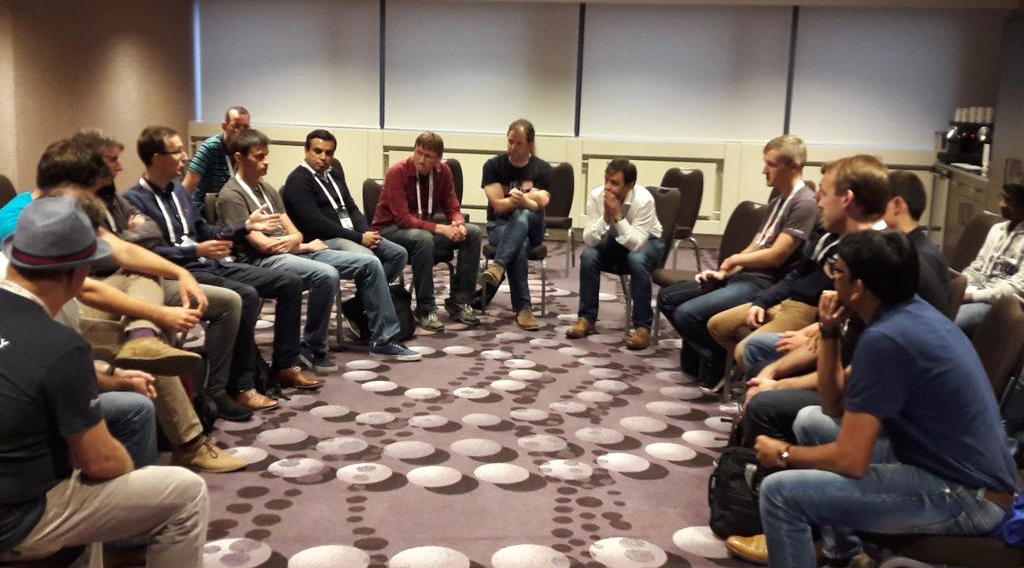 Are you ready to unconference your next faculty meeting or professional learning opportunity? I did it at a TCEA Innovative Learning Strategies Conference earlier this year, and WOW, was that an incredibly experience.
Learn more about the Power of Unconferences via this blog entry I wrote for TCEA (and access my curated resources):
Some research (2016) about unconferences, which are often termed "edcamps," (although not all unconferences are edcamps):
Edcamp unconferences: Educators' perspectives on an untraditional professional learning experienceAuthors: Jeffrey Paul Carpenter, Jayme Nixon Linton
Source: https://doi.org/10.1016/j.tate.2016.03.004
MyNotes:
Edcamps are a free, voluntary, and participant-driven form of unconference professional development. 
Many educators, scholars, and policy makers see professional development (PD) as key to the improvement of teaching, learning, and schools. 
Although research suggests that high-quality PD can improve instruction, traditional PD approaches are often criticized. 
Open Space Technology (OST), a structure for meetings which holds that groups with a shared focus can self-organize, collaborate, and solve complex problems
Andragogy holds that adults need to be involved in the learning process; have reservoirs of experiences that are potential resources for learning; and are oriented towards learning which is problem-focused and has immediate relevance. 
Heutagogy  is a more recent extension of andragogy that further empowers adult learners to more fully determine their own learning path and process. Whereas in andragogy an instructor is still involved in controlling and structuring the learning experience, in

heutagogy learning is largely self-directed

(Blaschke, 2012).
Heutagogy prioritizes not just the acquisition of knowledge, but also the development of skills, competencies, and capabilities, such as self-efficacy, metacognition, teamwork, and creativity.
Traditional PD seek to transmit knowledge to teachers under the assumption that new techniques are easily integrated into or replace existing practices. These training activities have, however, often lacked connection to educators' work in their schools, and failed to accommodate existing practices and conditions 
Those seeking to redefine PD have offered a variety of goals, including that PD should feature active learning, as well as being more long term, content focused, and connected to concrete teaching and assessment tasks (e.g., Desimone, 2009; Webster-Wright, 2009). PD that includes collaborative teacher inquiry, and that develops or harnesses educator agency, has also been credited with having transformative potential 
Many participants specifically hoped to learn teaching strategies.
Approximately one-fifth of participants specifically expressed interested in learning about technology. For example, one teacher wanted to learn about "the newest technologies being used in secondary instruction." Participants referenced specific technology-based approaches to teaching and learning, including bring your own device programs, one-to-one device programs, and flipped learning.
 In addition to learning about technology, a number of attendees commented on learning through collaboration and communication technologies such as Google Docs and Twitter.
 findings support previous research that revealed a preference among educators for participant-driven, teacher-led PD (e.g., Bond, 2015) and educators feeling a strong sense of responsibility for their own professional learning (McMillan, McConnell, & O'Sullivan, 2014). These findings suggest that Edcamps are in at least partial alignment with research that indicates effective PD features active learning (Garet et al., 2001), autonomy (Dierking & Fox, 2013), and collaboration (Ronfeldt et al., 2015).
The Edcamp model does not, however, appear to align with all of the elements of effective PD suggested in the literature. Edcamps do not include structures that result in a focus on content, as recommended by prior research
---
Everything posted on Miguel Guhlin's blogs/wikis are his personal opinion and do not necessarily represent the views of his employer(s) or its clients.
Read Full Disclosure